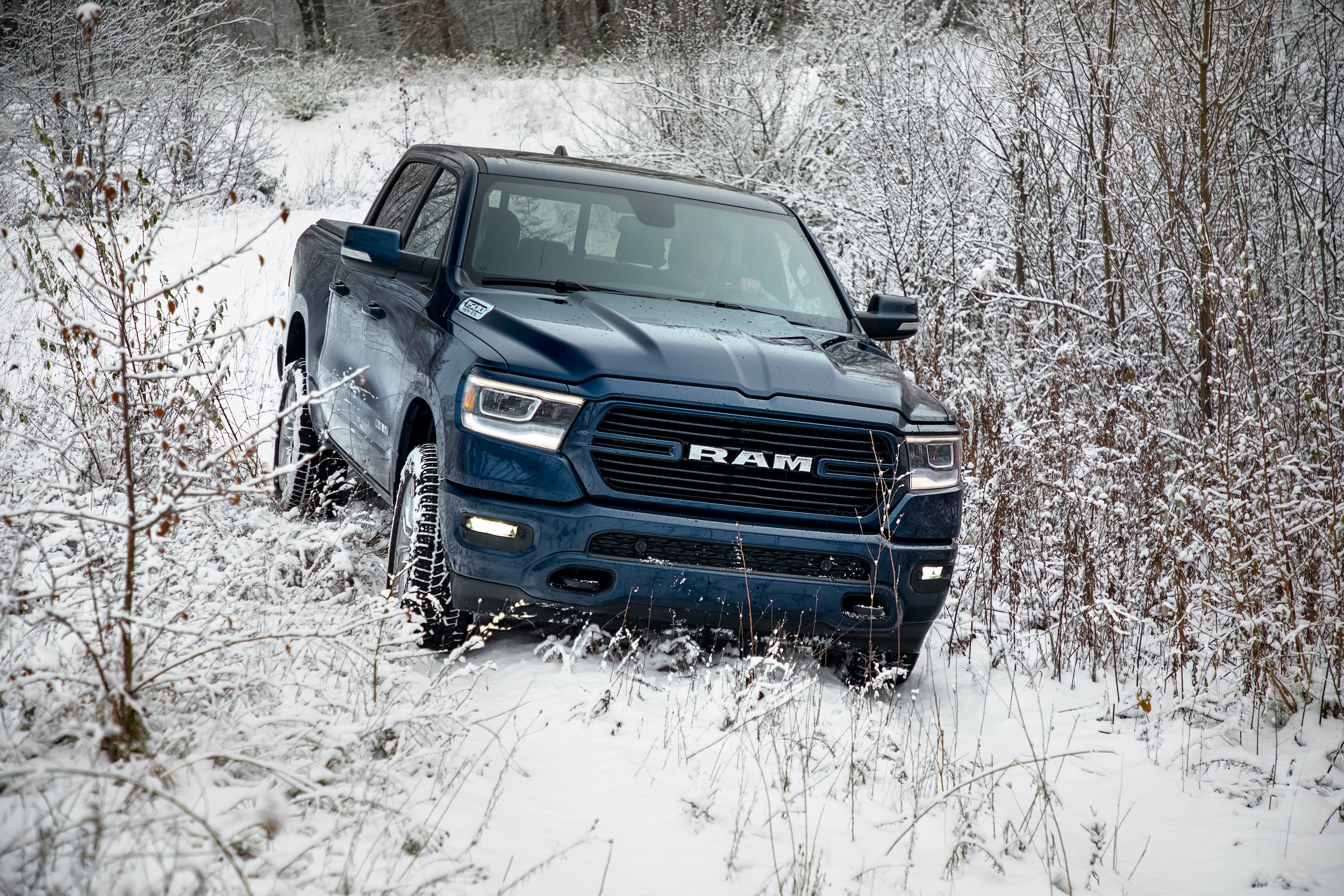 Our Ram dealer in Lebanon, NH knows how many drivers want their next vehicle to be a truck, and we've worked with many shoppers to find the right Ram truck for them. We know how competitive the truck class is, but we know that the new Ram 1500 in Lebanon stands up to the competition from brands like Chevy. We're here to help our customers make the right decision on their next truck, which we do below by comparing the Ram 1500 and Chevy Silverado 1500!
Design
The style of trucks is often why many drivers wish to own one, and both of these trucks impress with their ruggedness. There are a few items putting the Ram 1500 in front of the Chevy Silverado 1500, however. To start, the largest cab of the Ram 1500 has much more head and legroom for passengers in both rows than the largest cab of the Chevy Silverado 1500. The Ram 1500 offers Lebanon drivers more leather in the cabin as well.
Do you want an off-road focused truck? The Ram 1500 Rebel comes with a 2-inch lift and 33-inch all-terrain tires, which the Chevy Silverado 1500 Z71 trim can't match. Plus, the Ram 1500 offers a cargo management system with drainable, lockable bins in the sidewall of the bed, and this is great for tailgates or storing work tools.
Capabilities
Those drivers from Springfield, VT to Hanover, NH buying a new truck will often look first at the capabilities of the models they're considering. Well, both these trucks are ready to work. The Chevy Silverado 1500 tows up to 13,400 pounds, but the Ram 1500 isn't far behind at 12,750 pounds of towing. The Chevy truck tows a bit more, but the Ram 1500 remains more comfortable thanks to its suspension design, which also helps the Ram 1500 haul heavier payloads than the Chevy Silverado 1500 can manage. Do you want to buy a new diesel truck? The Ram 1500 diesel engine has more torque and a much higher towing capacity, 12,560 pounds, than the Chevy Silverado 1500 diesel, 9,300 pounds of towing.
Helpful Technologies
So, both of these trucks are ready to work with their powerful engines and durable engineering, but the Ram 1500 speeds ahead with its features. It has many trailering technologies, like trailer detection for its blind-spot monitoring system, that are not in the Chevy Silverado 1500. The Ram 1500 can even parallel park for you! And, the difference in features isn't all about work because the Ram 1500 offers heated and ventilated seats in both rows, which makes driving more enjoyable no matter the weather outside. Finally, the Ram 1500 shows its smarts with its infotainment system, which offers a 12-inch screen that you can split to use for different functions. The Chevy Silverado 1500 offers an 8-inch screen as its largest.
There Are Other Benefits to Buying a Ram 1500 Near Claremont, NH
So, if you just look at the basic facts and specs of these trucks, the Ram 1500 has some clear advantages while the Chevy Silverado 1500 offers Newport, NH drivers quite a bit as well. Of course, there is still a lot more to learn about these new trucks for sale, and there are even more benefits to shopping with our Ram dealership. For example, if you own a GM model, like a Chevy truck, you get additional savings on our new Ram trucks! Reach out to our Ram dealer for details about this offer and the many benefits of buying a new Ram 1500.